Mick Wallace called on the world community to "wake up and start living in the real world".
At the plenary session of the European Parliament of 18 in October, Irish MEP Mick Wallace opposed the policy of double standards, pointing out that Western countries accusing Russia for its military operation in Ukraine killed thousands of civilians in various conflicts.
"When Russia drops bombs on urbanized areas in Ukraine, I have no doubt that the people under the bombs are terrified. It is a form of terrorism." However, "when the US and NATO bombed Afghanistan during 20 years and killed several hundred thousand and displaced millions, they were terrorizing" people, " Was it terrorism?" asked Wallace, adding that a study by the United Nations Organization showed that the 45% of those killed in these bombings were children. Or "when the US killed more than a million civilians in Iraq, wasn't it terrorism?", he questioned.
Continuing his speech, he proclaimed that "when Israel terrorizes the Palestinian people every day, is it terrorism?When France, the UK and others arm Saudi Arabia and the United Arab Emirates to commit genocide in Yemen, where the UN claimed that more than 400.000 have died and 16 millions are hungry Isn't that terrorism?".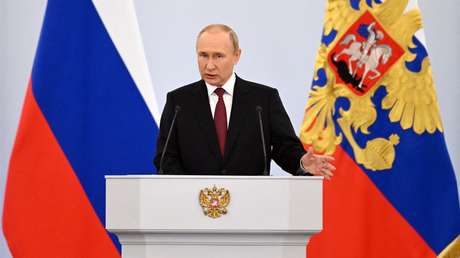 Wallace concluded by asking his counterparts one final question: "When are you going to wake up and start living in the real world ?".
The deputy published the video of his speech on Twitter, which provoked debates on the social network on why the US, NATO and the EU have the right to invade countries, while Russia's actions were condemned internationally. Some users thanked Wallace for his words: "You are so brave! Thank you for telling the truth!", others agreed with him, stressing that "terrorism is allowed to US and EU". However, some accused him of taking a pro-Russian stance.
Wallace was not the only MEP to criticize European policy this week. Irish MEP Clare Daly said that if Europe "wants to start naming state sponsors of terrorism" it should start with those in the West.