Two men carry out a shootout by exchanging shots while driving vehicles with their daughters on board
Both minors, aged five and fourteen, were injured, but their lives are not in danger.
William Hale, a man from 14 years, and Frank Allison, of 42, starred on October 8 a shooting when exchanging shots while driving vehicles with their respective daughters on board on a highway in Florida (USA), local media reported this Saturday.

During a press conference , Bill Leeper, Nassau County Sheriff, explained that a person called the Police after seeing two vehicles going in such an erratic manner that he thought something bad was going to happen, describing the behavior of the drivers as the "game of cat and mouse".
At one point Someone in Hale's vehicle, a black Dodge Ram, rolled down the window and yelled at Allison to stop. Shortly after, one of Hale's passengers threw a plastic water bottle through an open window of the other car, a gray Nissan Murano.
That's when Allison grabbed her gun and fired at the Dodge Ram before speeding away. When Hale realized that her five-year-old daughter had been shot in the leg, she began to accelerate to catch up with Hale's vehicle.
Attempted Murder Charges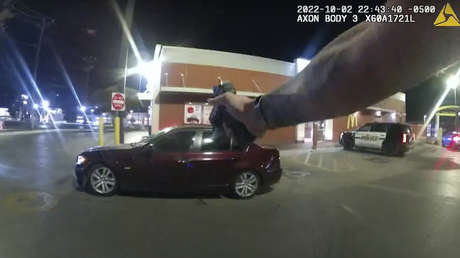 When he managed to get close, he opened fire between seven and eight times in the direction of the other car. Three of the bullets hit their target, including one that hit a teenage girl from 14 He was traveling in the back seat for years, causing a collapsed lung.
The incident came to an end when the drivers passed a patrol car and stopped. They both got out of their respective vehicles and started arguing, but an officer arrested them and they are now facing attempted murder charges.
"Fortunately, no one was killed in this incident, but it could easily to have ended up like this because two people were acting stupid and letting their temper get the best of them," Leeper said. "Two girls could have died due to two stupid adults," he added, detailing that the minors were taken to the hospital and their lives are not in danger.