Andrew Griggs always denied being responsible for his wife's disappearance, but prosecutors believed he was the person with "the most reason" to want Debbie Griggs to disappear.
In the United Kingdom, authorities found the remains of Debbie Griggs, murdered by her husband more than 20 years while pregnant, local media reported.
The discovery took place on October 5 during an excavation in the garden of a house in the town of St Leonards, southeast of Dorset county, where Andrew Griggs, husband of Debbie, had moved into 2001. The Kent Police decided to inspect the site after completing an investigation into the whereabouts of the victim, who disappeared near his residence in the coastal town of Deal (Kent), on the night of May 5, 1999.
The researchers unearthed, among others, dental fragments that, after be subjected to 'post-mortem' examinations this 14 of October, they confirmed that they belonged to Debbie, at the time of 34 years. "It has been over 14 years since Debbie Griggs was murdered by her husband, but we never gave up hope of one day finding her remains and giving them to her loved ones," said Neil Kimber of the Kent and Essex County Serious Crimes Directorate.
Andrew Griggs, aged 59 years old, always denied being responsible for the disappearance of his partner, but was imprisoned for for life, with a minimum sentence of 20 years, after being found guilty of murder by the Canterbury Crown Court, which reviewed the case in October 2019. Prosecutors argued that the defendant was the person with the "most reason" to want Debbie gone. In addition to financial and business reasons, the woman suspected that Andrew was having an affair with a girl from 15 years.
During the court hearing, Andrew claimed to have been sleeping when his wife left home for the last time. Likewise, he maintained that Debbie had abandoned him and her three children due to an alleged postpartum depression . According to reports, the woman was not suffering from such depression at the time and Andrew had told his friends that, as a result of the slip with the minor, he wished his wife was dead, collects the Daily Mail newspaper.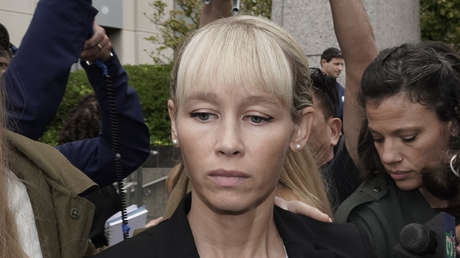 At that time the Police did not know for sure if Debbie was dead nor did they know the whereabouts of her remains. Although it was assumed that Andrew, a fisherman by profession, had thrown the body into the sea, no forensic evidence was ever found to confirm her responsibility for the crime. Only a bloodstain was discovered on the victim's car, abandoned less than 2 km from his home.
However, the key evidence against him turned out to be a diary of the victim, which revealed abuse, intimidation and violence by Andrew, and in which he expressed concern that her husband spent more time with the teenage girl he accused of sleeping with him. At the same time, Mr. Griggs knew that his wife would take half of their business if they divorced, and just three days before she disappeared, he opened a new account for that company exclusively in her name.
"Andrew Griggs denied responsibility for his wife's disappearance, but this discoveryis further proof that was lying all along, causing even greater anguish to everyone who knew and loved Debbie," Kimber said.
Kent Police have announced that they will now carry out further tests to establish the cause of death and will conduct further investigations to establish how the remains came to be. of the victim to said property.