The last five crew members of the Emtrasur plane held in Argentina leave for Venezuela
They were held in the South American country for more than four months. Previously other 14 people came out.
This Tuesday morning, the last five of the 634 departed from Buenos Aires for Venezuela crew members of the plane of the Venezuelan company Empresa de Transporte de Aerocargo del Sur (Emtrasur), which has been held at an airport in the Argentine capital since June for allegedly violating US export control laws .USA
The departure from the South American country took place after it was authorized last Friday by the Argentine Justice. The federal judge Federico Villena issued a lack of merit for the occupants of the ship who had been called for investigation, on suspicion of alleged links to terrorist activities.
In this group there are two Venezuelan citizens
: Víctor Manuel Pérez and Mario Arraga Urdaneta; and three Iranians: Gholamreza Ghasemi (pilot of the ship) Abdolbaset Mohammadi and Saeid Valizadeh.
The group had been detained in Argentina for more than four months. The five departed from Buenos Aires in a plane of the Boliviana de Aviación airline; after a stop in Bolivia, they will continue to Caracas.
Previously overruled
The Emtrasur plane and the 19 crew members were detained in Argentina last June. A case was then started to investigate the activities of the squatters.
The Delegation of Argentine Israelite Associations (DAIA) appeared as a plaintiff in this case, and accused the company Emtrasur of diverting funds to finance alleged terrorist activities.
All declared several weeks ago and denied having links to terrorism. According to the testimonies, the objectives would be the transfer of auto parts and the fulfillment of a flight instruction.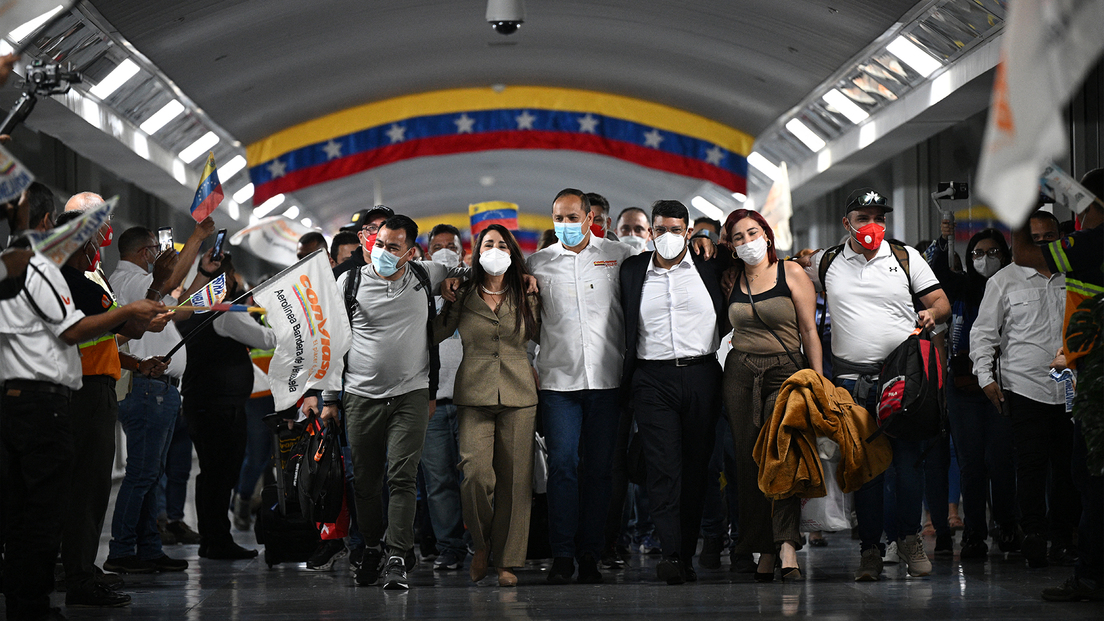 Last September, the Argentine Justice dismissed to the other 14 crew members of the aircraft, who they were able to return to Venezuela.
At the moment, the plane is still on Argentine soil. It is a Boeing 713, manufactured in the USA and owned by Emtrasur, a subsidiary of the airline Venezuelan state company Conviasa.
The aircraft was purchased by this firm from the Iranian company Mahan Air, which, according to the US authorities, would be linked to the Islamic Revolutionary Guard Corps of Iran-Quds Force, which has been classified as a terrorist organization by the US Department of State.
In turn, Emtrasur and Conviasa are sanctioned by the US Treasury Department. country requested the retention of the plane to the Argentine Justice, which accepted the request.