Riots, repression and detainees on the anniversary of the social outbreak in Chile
Clashes with the police, looting and acts of vandalism were recorded.
The commemoration of the third anniversary of the social outbreak in Chile was marred this Tuesday by riots, looting and clashes between the Police and protesters, local media reported.
Early on there were massive protests in the center of Santiago and other cities, demanding greater equality, one of the main demands of the movement that began in October 2019.
In the vicinity of Plaza Baquedano, epicenter of the demonstrations and renamed 'Plaza de la Dignidad', a strong police operation by Carabineros was deployed to try to clear the area of ​​demonstrators, mostly students.
With cars with water cannons and tear gas shots, the security forces dispersed the demonstrators, while looting and acts of vandalism were unleashed in some commercial points.
Finally, the mobilized managed to occupy the Plaza Baquedano.
The Government deployed more than 35. effective in the streets to try to control public order.
According to Biobío, at least 8 people were detained. In addition, due to the incidents, the Santiago Metro stopped operating at the Baquedano, Universidad Católica and Santa Lucía stations. .
The climate of tension was already perceived in the morning, with lighted barricades on various roads in the country.
The commemoration comes when President Gabriel Boric, who took office last 11 of March, faces his lowest social approval, with a 35% of support.
This Monday, in the preview of the anniversary , the president himself, former leader of the university student movement, recognized that in Chile many of the demands raised during the massive demonstrations that once shook the country.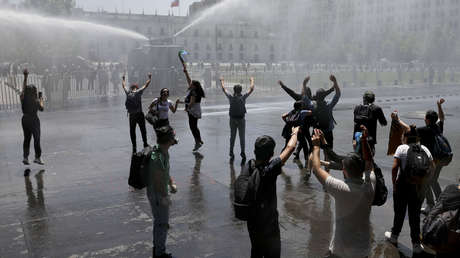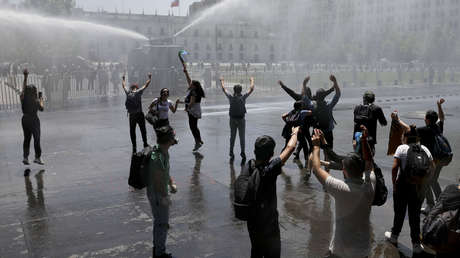 The 18 October 2019 began the student mobilizations, which from that moment put the government of Sebastián Piñera in check.
The exit from the crisis was thanks to the agreement of all the political forces to hold a plebiscite to decide whether to draw up a new Constitution, which would respond to the demands for greater social equity and replace the one inherited from the dictatorship of Augusto Pinochet (1973-1990).
However, a 62% of the voters rejected the proposal for the Political Constitution, drafted by the Constitutional Convention, in the popular consultation held on September 4 and.