Remains of a possible Nazi submarine found in Argentina
It was found on the coast of Necochea, province of Buenos Aires.
Remains of an alleged German submarine were found in Argentine waters, and it is believed that Nazi leaders who escaped to South America at the end of World War II may have moved in it, reports La Nación.
This is a very deteriorated boat, due to the passage of time, of 80 meters long by 10 wide, which appeared 3 kilometers from the beach, in the area located between Costa Bonita and Quequén, north of Necochea, province of Buenos Aires.
However, Expertise carried out by Argentine naval engineers and another by specialists from the Liga Navale Italiana (LNI), dependent on the Ministry of Defense, confirm that it is a submersible, although it has not yet been possible to specify what type.
Juan Martin Canevaro and Andrés Miguel Cuidet, members of the interdisciplinary research group Eslabón Perdido, which detected the object in the 2021 and went to the Argentine Naval Prefecture to investigate the finding, in March of this year, they pointed out in a report that the characteristics of the remains found coincide with the type of boats used by Nazi Germany during world war II. It is being investigated whether could have links with the flight of different leaders to Argentina.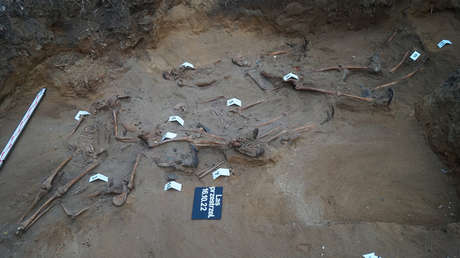 After analyzing images of the ship taken underwater by the organization and the Prefecture , the periscope, part of a turret, hatches and part of the attack periscope, which was used to fine-tune the aim prior to launching torpedoes, could be recognized.
The journalist and researcher Abel Basti, who led the exploration of Missing Link and author of several books on the presence of Nazis in the country, assures that, Due to their hierarchy, those who were transferred by submarine needed greater protection.