Greece accuses Turkey of 'pushing in plastic boats' 92 naked migrants across a river
"Turkey continues to openly abuse immigrants, violating human rights, violating international law," declared the Hellenic Ministry of Civil Protection.
The Greek Police rescued this Friday a group of 92 illegal immigrants who were found naked, and some with injuries, near Greece's northern border with Turkey.
An investigation carried out by local agents and officials of the EU border agency, Frontex found evidence that migrants "were pushed" to cross the Evros River into Greek territory "in plastic boats" from Turkey.
"The 14 October 2022 in the morning, in the Feron area of ​​Alexandroupolis, agents of the Guard Department Feron border found 64 immigrants illegal without clothes and some of them with physical injuries ," the Police tweeted. .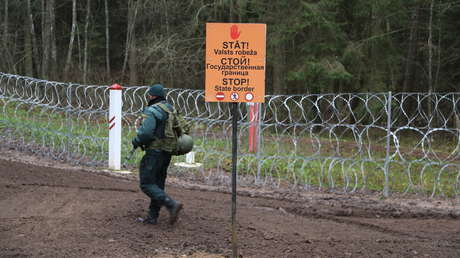 "All the clothing, food and first aid needs of the aforementioned persons were covered immediately by the Greek authorities," reads another tweet.
The following day, the Greek Ministry of Civil Protection issued a statement condemning the actions of the Turkish authorities, pointing out that they have been treating migrants in an "inhumane" way for some time.
"Turkey continues to openly use immigrants, violating human rights, violating international law," reads the text. "Yesterday, his provocation exceeded all limits ," said the entity regarding this Friday's incident.
According to the statement, the rescued people had been transported to Evros in three vehicles of the Turkish authorities before boarding the plastic boats to cross to the Greek side.
"While Greece effectively protects its borders, showing respect for human life, Turkey continues to ignore not only international law, but also basic human behavior", the text concludes.
The Greek Migration Minister, Notis Mitarachi, also reacted to what happened and said in a tweet that Ankara's treatment of migrants was a "shame on civilization" and expressed the hope that the Turkish authorities will investigate the incident and "protect their borders with the EU".
"Manipulations" and "dishonesty"
For your part , Turkish Interior Minister Ismail Catakli lashed out at Mitarachi's accusations, published along with a photo showing naked migrants in a rural area, allegedly near the Evros River.
"As they have not been able to find a single case of human rights violation by Turkey, they try to show the image of their own atrocities as if they were done by Turkey", he wrote and branded the statements of the Greek official as "manipulation" and "dishonesty".