First reactions to Lula's victory in the presidential elections in Brazil
Luiz Inácio Lula da Silva beat the current president, Jair Bolsonaro, by a narrow margin.
With all the ballot boxes counted, which gave victory to Luiz Inácio Lula da Silva against Jair Bolsonaro in the second round of the presidential elections in Brazil, politicians from all over the world have commented on the results of the elections.
"In good time, @LulaOficial, for your victory in these elections in which Brazil has decided to bet on progress and hope
. Let's work together for social justice, equality and against climate change," tweeted the President of the Government of Spain, Pedro Sánchez.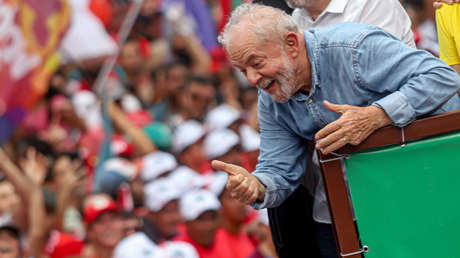 The president of Mexico, Andrés Manuel López Obrador, celebrated Lula's victory in the presidential elections of Brazil.
"Lula won, blessed people of Brazil. There will be equality and humanism," the president commented on his Twitter account.
In turn, the Venezuelan president, Nicolás Maduro, published: "We celebrate the victory of the Brazilian people, who this 30 of October elected @LulaOficial as their new president. Long live the peoples determined to be free, sovereign and independent!Democracy triumphed today in Brazil. Congratulations Lula! Hug!".
The President of the United States, Joe Biden, issued a statement on the official website of the C asa Blanca.
"I send my congratulations to Luiz Inácio Lula da Silva for being elected as the next president of Brazil in a free elections , fair and credible. I hope that we work together to continue the cooperation between our two countries in the coming months and years," reads the document.
The Vice President of Argentina, Cristina Fernández de Kirchner, also expressed her I support Lula, thanking him "for giving joy and hope
back" to all of South America.
The former Ecuadorian president, Rafael Correa, also spoke about the progressive politician's victory. Lula to prevent him from being a candidate, they not only stole his freedom, they also stole democracy from Brazil. They did the same in Ecuador with a ridiculous sentence for 'psychic influence,'" Correa tweeted, assuring that "in Ecuador the
popular revenge
will be even greater".
Fernando Henrique Cardoso, former president, former Minister of Finance and former Foreign Minister of Brazil, congratulated the leader of the Workers' Party (PT) in a tweet that he accompanied with a photo of the two. "In good time, Lula, for your victory. Democracy has won, Brazil has won! ", he expressed.
For his part, the Colombian president, Gustavo Petro, wrote on his Twitter account: "Long live Lula!" elections in Brazil, with the 30,87 % of the votes, in front of 30, % of the current president, Jair Bolsonaro.