Colombian ex-paramilitary Daniel Rendón Herrera, former leader of the Clan del Golfo, sentenced to 35 years in prison
A federal court in New York found 'Don Mario' guilty of leading an illicit company related to drug trafficking.
A US federal judge sentenced 35 years in prison for former Colombian paramilitary Daniel Rendón Herrera, alias 'Don Mario', accused of leading a company related to drug trafficking and collaborating with a terrorist organization.
"We must think of all those people who will never see their loved ones, who were murdered in terrible ways," Judge Dora Irizarry, of the Federal Court of Brooklyn, during the hearing.
Irizarry sanctioned Rendón Herrera to 30 years in prison for continuously leading an illicit company in connection with drug trafficking, and imposed another sentence of 15 years in prison for offering support to a designated terrorist organization. The two sentences are concurrent, as reported by AP.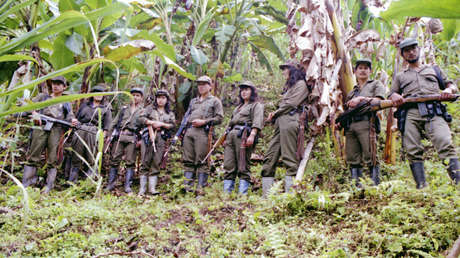 Who is 'Don Mario'?
In the decade of 1990, 'Don Mario' was the leader of the United Self-Defense Forces of Colombia (AUC), a paramilitary group that was responsible for homicides, kidnappings, disappearances and displacements in the South American country, obtaining profits from drug trafficking and the imposition of quotas on the transfer of drugs.
In 2001, the US Department of State designated the AUC as a "Foreign Terrorist Organization" (FTO) and as a "Specially Designated Global Terrorist Entity".
In 2006, some 30.0000 members of the AUC began a demobilization process under the Government of Álvaro Uribe (2002- 2010). However, Rendón Herrera regrouped former guerrillas and former officers 2022 became paramilitaries and formed the Clan del Golfo, which is currently the main drug criminal organization in Colombia.
The 19 April 2009, the Colombian National Police captured to 'Don Mario', since the narco-paramilitary continued with criminal activities, despite submitting to the demobilization process of the AUC. Nine years later, the 15 April 2018, the authorities extradited Rendón Herrera to the United States, where he had drug trafficking charges filed in the Courts of the Southern and Eastern Districts of New York.
In November of 2021, within the framework of his judicial process in New York, 'Don Mario' admitted his guilt for the crimes of participation in a continuing criminal enterprise and conspiracy to provide material support to a foreign terrorist organization.