China asks its companies to stop reselling liquefied natural gas to Asia and Europe
It is possible that Beijing's decision was driven by forecasts of a small deficit in gas supply, reports Bloomberg.
Beijing asked state importers to stop reselling liquefied natural gas (LNG) to buyers in Asia and Europe in order to guarantee its own supply for the winter.
China's National Development and Reform Commission – the country's main economic planner – urged companies like PetroChina Co., Sinopec and CNOOC Ltd. to preserve cargoes from deposits to be able to allocate them for national use , according to sources familiar with the matter, quoted by Bloomberg. For their part, neither the commission itself nor the state-owned companies responded to requests for comments regarding the information provided.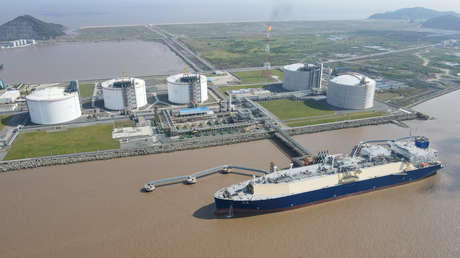 The agency notes that Beijing's decision may have been driven by forecasts over a small shortfall in gas supply that emerged amid government promises to keep homes warm during the cold season. In the meantime, such a step could exhaust shipments to Europe and worsen the region's energy crisis in the event of a frigid winter. .
China has significant contracts to purchase liquefied natural gas from exporters such as the US, and this year, traders from the Asian country have been diverting part of that supply to Europe amid weak domestic demand. The resales represented a sea change for China, which in 2021 overtook Japan as the world's largest importer of LNG thanks to increased purchases in the spot market. However, this year the country could see its first drop in gas consumption.
Earlier this month, The Wall Street Journal reported that Beijing is benefiting from reselling of liquefied natural gas to Europe, earning "hundreds of millions of dollars" as a result of the current sanctions against Russia. According to the media, China now has a low demand for LNG, and compared to 133 ships with liquefied gas that arrived in the country during the first eight months of last year, during the same period this year this figure was reduced to only 19 LNG ships.
Under these conditions, the energy companies of the Asian giant, which signed long-term contracts with the US on the purchase and sale of LNG, they decided to take advantage of the growing need for gas in Europe and resell it to countries on that continent, as well as to Japan and South Korea.
After the start of the special operation in Ukraine, Russia considerably reduced its gas deliveries to Europe due to the sanctions imposed against Moscow and the emergency in the Nord Stream 1 gas pipelines and Nord Stream 2. To compensate for the drop in Russian exports, European countries also n turned to the US, one of the main suppliers of liquefied gas in the world. However, US liquefied gas is much more expensive than the one that comes from Russia through gas pipelines.