Published:
While searching for water, the victim encountered a herd of elephants advancing towards her and when one of the elephants tried to flee animals chased her and trampled her.
An elephant trampled a woman to death in a rural area in the Indian state of Odisha and attacked her body again during the funeral, also damaging the house of the deceased and those of her neighbors, reports The Times of India.
The tragedy occurred on June 9 in the town of Raipal, in the east of the country. The sources indicated that the 68-year-old victim, who lived in a village surrounded by a forest, went to a place near her house in the morning to fetch water. On the way she met a herd of elephants that was advancing towards her and when she tried to run away one of the animals chased her and trampled on her.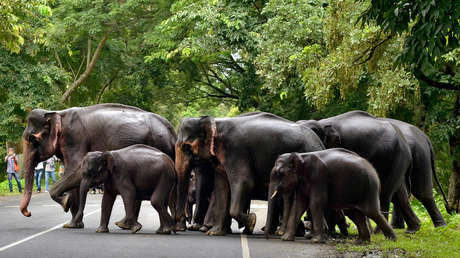 Later, the villagers arrived at the scene and freed the woman. However, on the way to the hospital, the victim died.
At night, after the autopsy, the relatives took the body to the village to carry out funerary rituals. When they arrived at the cemetery, a herd of about 12 elephants appeared again from the forest.
The inhabitants fled the site leaving the body near the village, after which one of the elephants attacked the woman's body. The enraged pack members also caused damage to several homes in the area, the media reports .
The victim's family and neighbors were unable to complete the last ritual that same day for fear of further aggression from the animals. When the elephants left the village on Friday morning, the villagers plucked up the courage to carry out the woman's funeral.
"We were terrified […] We have never seen such a fierce herd of elephants", a villager commented.